Keziah
FILTHY FUN & ALWAYS HORNY!
I'm a busty Brazilian babe, a size 8 with auburn hair and hazel green eyes. A shemale of supreme femininity. Do you want to fuck me or be fucked? I love both, I'll do both. CUM and adore me. I'm into anything and everything. Whatever you want, I'll give it to you. Dominants welcome but I also have a thing for my shy boys too. I'm very easy going, open-minded, always up for some filthy fun and horny ALWAYS. With a pretty cock, sweet balls and big breasts, I'm a t-girl of mind blowing proportions. My true kink is when a guy thinks I'm a woman. Never and I mean NEVER have I been told to stop. Why because I am the best fuck EVER! How could a born woman ever truly know how to pleasure a man?! I know how to take so I sure know how to give. Stockings, panties, uniforms and MORE. Roll-on the roleplay.
Do you like me? Do I turn you on? Do you want me? You can have me! Just contact me now and we will have sensational sex text. I have lots of hot pictures and videos to send you. Ready? I'm waiting! For a luscious Latino lady boy, try ME!
Download videos direct to your mobile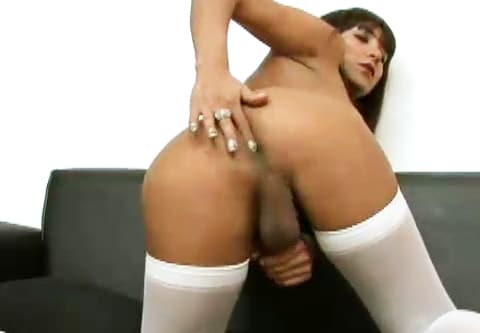 XXXTREME FILTH
Videos cost £1.50 each. Standard network charges apply for texts sent.
5:15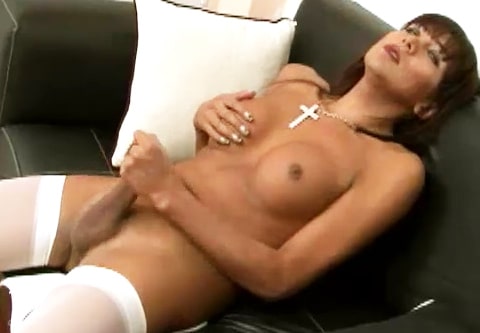 JERK-OFF & JIZZ
Videos cost £1.50 each. Standard network charges apply for texts sent.
5:39
The internets hottest live sex text with Brazilian trannies. Explicitly dirty text chat with dirty pic swap. Never, ever will you find such beautiful, sexy and feminine Goddesses as what we have on offer. You would never know these are actually transsexuals until you have the privilege of seeing their amazing cocks. Explore them and expose them in the hardest of hardcore 121 sex chat on your mobile phone. Brazilian chicks with dicks, true worshippers of anal sex and dick sucking. These luscious sex queens are always ready and waiting for a filthy fucking. These are good-time tgirls hot for cock. Wank with them, cum with them. Enjoy the moment and live out your tranny sex desires.
MOBILE VIDEOS
The sexiest, filthiest and kinkiest tranny porn videos on your mobile phone. Download now and watch to wank. These trannies are hot, horny and ready for action. Brazilian babes get down and dirty for your kinky pleasure.